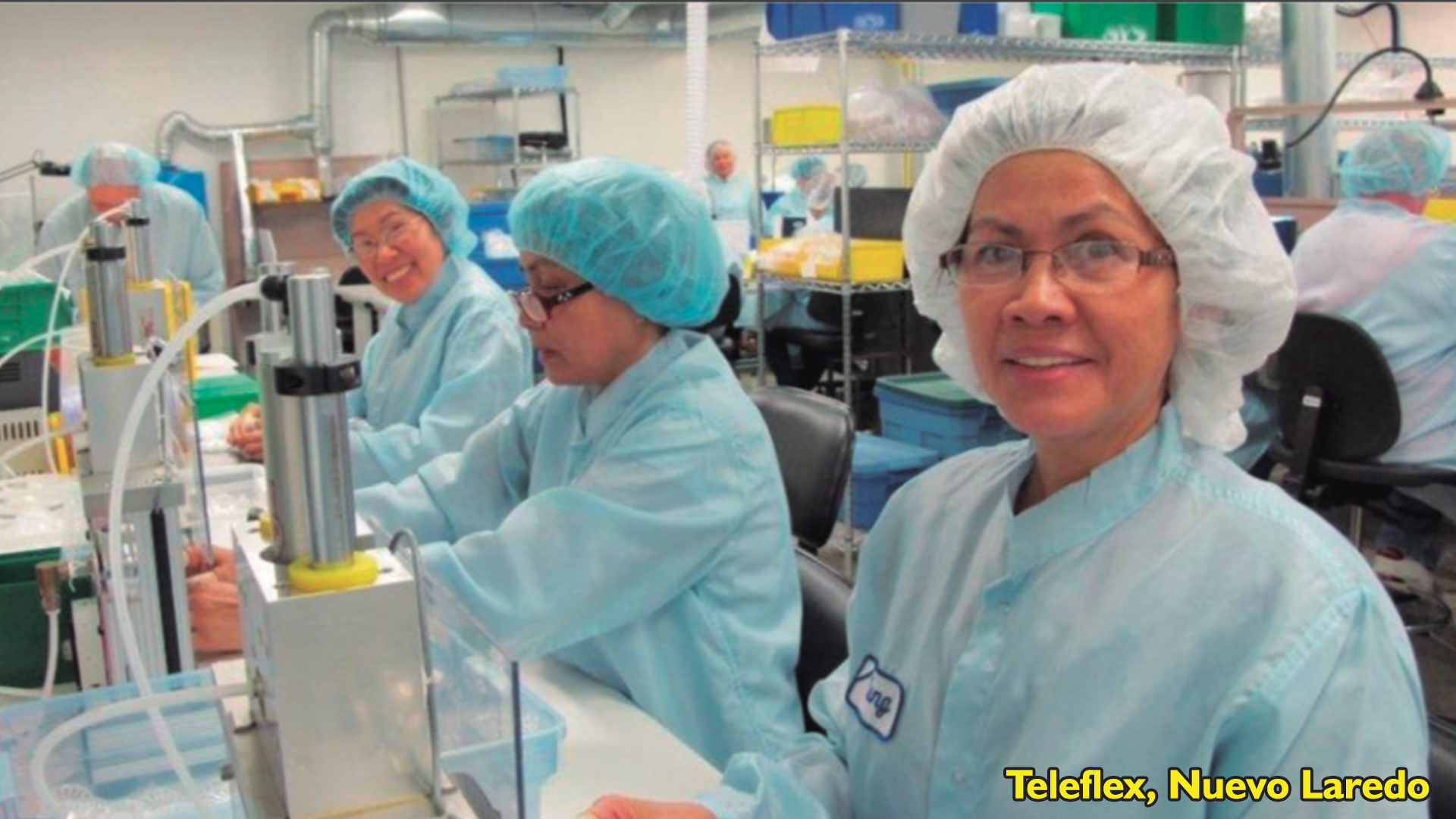 By Nancy J. Gonzalez
Even though the COVID-19 pandemic slowed down trade between the U.S. and Mexico, manufacturers forecast a more dynamic 2021.
This new dynamic will be driven by sectors strengthened during the pandemic such as the medical devices and logistics, while consolidated industries such as manufacturing and automotive will continue to catch up lagged orders. Other factors increasing the dynamism are the United States-Mexico-Canada Agreement (USMCA) and nearshoring.
"This year we are going to perceive the high impact that the USMCA has in Mexico," said Luis Manuel Hernandez, INDEX president. "We forecast growth, while more, better jobs are heading to Mexico."
He explained that once the U.S. economy improves, the manufacturing sector in Mexico will have more orders and the manufacturing jobs lost in Mexico during the pandemic might be recovered.
In the last quarter of the year, companies have been looking to open or expand facilities in Mexico, especially at the northern region. INDEX data shows 20 to 25 IMMEX programs are approved monthly in Mexico.
Even though the final numbers for 2020 have not been reported yet, INDEX forecasts the year closed up with US$255.65 billion in exports, which represents a 7% decrease compared to 2019.
"2020 was not so bad, if we consider some plants shutdown operations at the beginning of the pandemic," said Luis Aguirre Lang, former president of INDEX. "During 2020, some sectors strengthened and even grew, like the medical supplies industry."
Jobs in manufacturing also decreased but the forecast shows 2021 will favor job creation and the sector will end employing more than 3 million people in Mexico. Manufacturers believe exports will be 6.5% higher in 2021 than in the previous year.
Medical devices will continue to grow. This industry concentrates in northern Mexico, especially in Tijuana, Ciudad Juarez, and Reynosa. The factories in these cities manufactured crucial medical equipment, such as disposable intravenous sets, syringes and catheters and even ventilator's parts.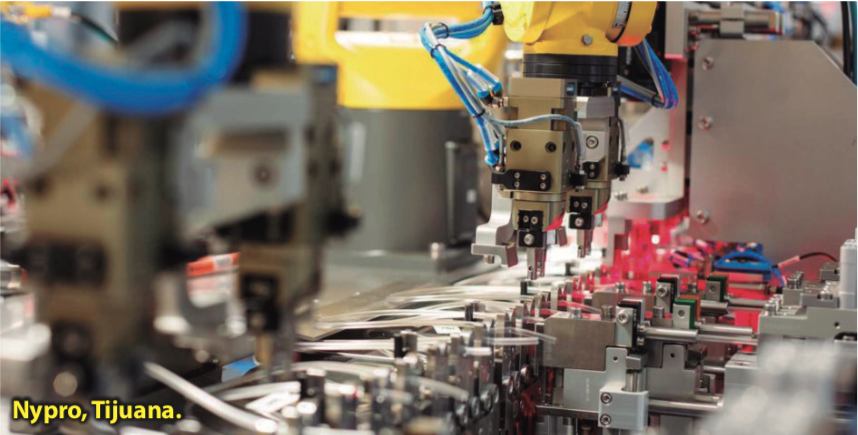 "Tijuana is the leading medical device manufacturing hub in North America and is a strategic production center for U.S. markets," said Centerpiece CEO Matt Jordan.
Recently, two North American medical devices producers— Medline and Centerpiece— announced investments close to US$200 million in Baja California. The industry there has been growing by between 9% and 10% annually over the past five years, with investments of up to US$800 million yearly. Manufacturers said this trend will continue.
Manufacturers want to be closer to their market and the pandemic proved a regional supply chain is less likely to be disrupted; therefore, nearshoring is taking place and more companies are opening new facilities at the U.S.- Mexico border.
Chinese companies are taking a step forward and many of them have shot-listed U.S.-Mexico border communities to open new operations or to expand.
"A lot of manufacturing that is in Asia today is going to come to Mexico and it is going to come to Baja California," said Mario Escobedo Carignan, head of the Baja California Secretariat of Sustainable Economy and Tourism.
A survey conducted by this secretariat shows 66% out of 260 executives of companies with manufacturing plants in China acknowledged their interest in Mexico to supply the U.S. market.
Real estate companies are aware of this trend due to the high demand on properties at the border region.
Also, some companies with manufacturing sites in Ciudad Juarez have said they plan to invest more in Mexico, but have not specify the location. Some others have already made public their intent to expand operations to take advantage of the USMCA, such as BRP and Safran in Chihuahua.
"The USMCA has already have a positive impact in Mexico and more investment might be on the way," said Aguirre Lang.
Many active projects are focused on various manufacturing sectors, among them are automotive, appliances, electronics, system controls, and energy (oil and gas). This is a very positive sign, given the broad spectrum of companies that are undertaking important capital investment initiatives to expand their manufacturing platforms in Mexico.
But nearshoring is not only taking place in the Mexican border communities, some are coming to the U.S.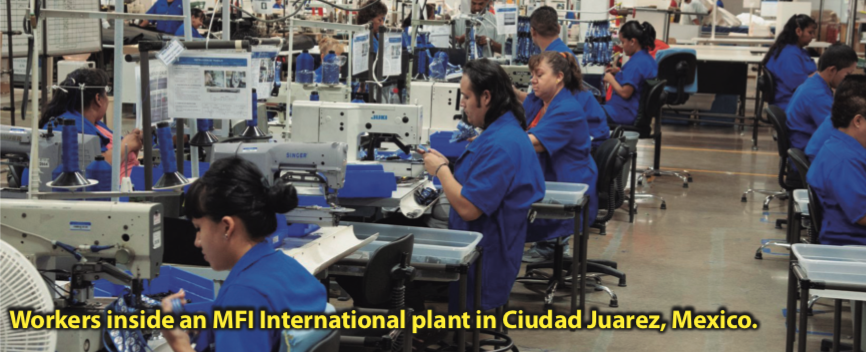 Southern New Mexico is building a strong trade partnership with Asia. Three Taiwanese companies plan to bring nearly 400 jobs to Santa Teresa this year: Cymmetrik, Xxentria, and Admiral.
"New Mexico's Border Region is well positioned for growth as companies from all over the world look to diversify their production plants and distribution centers to locate closer to North American customers," said Economic Development Secretary Alicia J. Keyes. "Admirial Cable, Xxentria, and now Cymmetrik see the advantages of being close to the international border in New Mexico and others will follow."
Arizona is also attracting more companies near its border with Mexico. Taiwan Semiconductor Manufacturing Co. announced it will build a manufacturing facility in Phoenix.
Moreover, Texas and Mexico's economies have only become more tangled over the past decade. For example, each US$1 of products that Mexico exports contains about US$0.40 cents of materials made in the U.S., a share that is growing.
INDEX president said the recovery in the manufacturing sector will come gradually for other industries because they are tied to the U.S. economy.
"We want the USMCA to work. If it works for the U.S., it will work for Mexico," Hernandez said. "Job creation is going to be crucial in 2021 in Mexico and having more than 3 million employed has a great social impact."
Aguirre Lang said the Mexican government must work with the private companies to favor foreign investment in Mexico with efficient public policy.
"We must catapult the investment, but we must work together," Aguirre Lang expressed. "For example, we must be able to offer competitive energy costs or we cannot compete globally for investment."
Manufacturers are asking for the Mexican government be more business-friendly to attract more foreign direct investment to all regions and to take advantage of the USMCA.