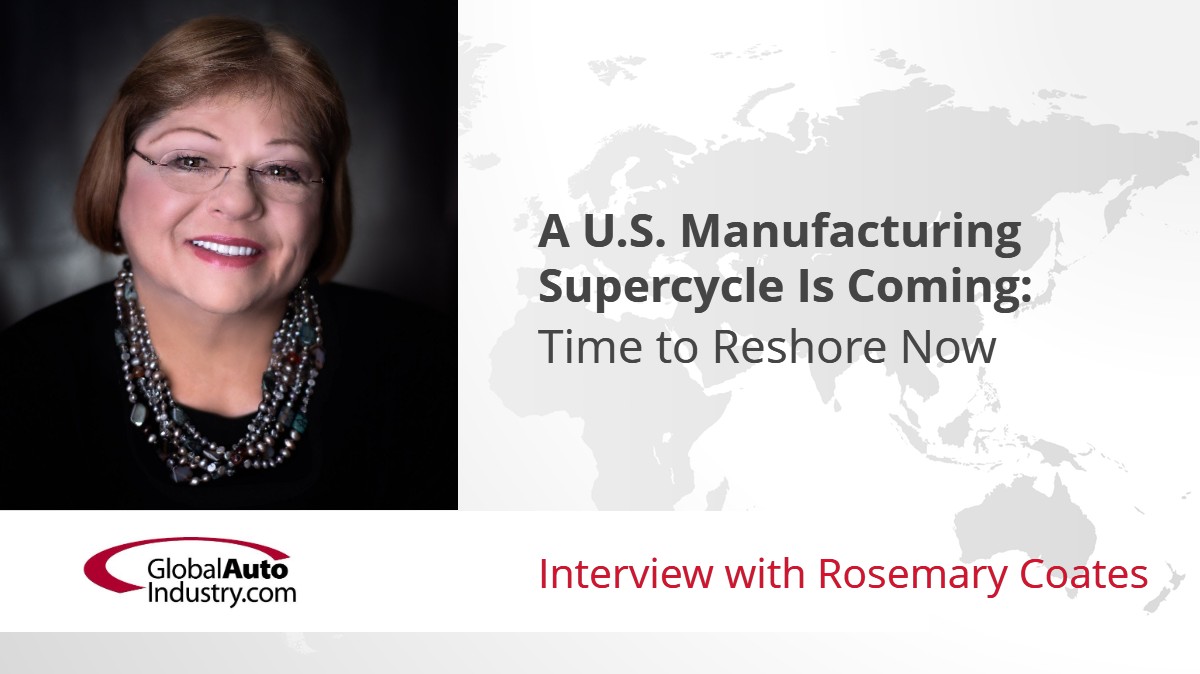 GlobalAutoIndustry.com's latest Audio Interview "A U.S. Manufacturing Supercycle Is Coming: Time to Reshore Now" features Rosemary Coates. Ms. Coates is the Founder and Executive Director of the Reshoring Institute, a non-profit and non-partisan organization focused on expanding U.S. manufacturing. She is also the President of Blue Silk Consulting, a global supply-chain management consulting firm. She has been a management consultant for 25+ years, helping over 80 global supply chain clients worldwide. She is an Amazon.com best-selling author with five Supply Chain Management books, including the "Reshoring Guidebook", "42 Rules for Sourcing and Manufacturing in China", and the "Legal Blacksmith – How to Avoid and Defend Supply Chain Disputes". She also works as an Expert Witness on legal cases involving global supply chain disputes. She serves on the Board of Directors at the University of San Diego Supply Chain Management Institute and teaches Global Supply Chain Strategy at UC Berkeley.
In the 18-minute Audio Interview, Ms. Coates discusses these questions:
The Reshoring Institute recently published survey research on American's preferences for buying goods made in the USA. But the real question is will Americans pay more for products made in the USA?
Mentions of "re-shoring" in S&P 500 earnings transcripts were up 128% in the last quarter against the same time a year ago, according to Bank of America — seeing higher growth than mentions of "AI". What does this mean for American manufacturing?
Bank of America economists are predicting a "manufacturing supercycle". What is contributing to this kind of prediction?
The Inflation Reduction Act, the Chips and Science Act, and the Infrastructure Act and all scheduled to push billions of dollars into US manufacturing. What other positive indicators are you seeing about the growth in US manufacturing?
What about the increase in domestic sourcing of parts and materials? How will that affect manufacturing? Transportation? Mining?