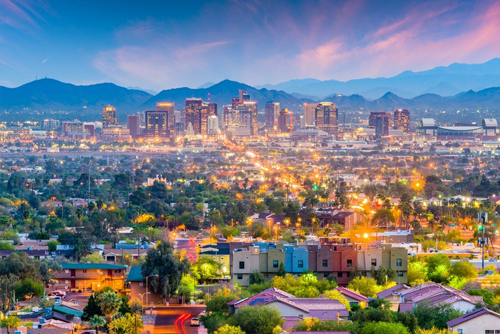 ARIZONA – Arizona was awarded Area Development magazine's "Shovel of Gold" award, marking the second consecutive year the state has taken home the gold in the 5 to 8 million population category. The Shovel Awards recognize states that "achieved major job creation and investment projects through innovative policies, infrastructure improvements and other processes" in 2021.
In addition, Area Development named Intel's $20 billion expansion in Chandler as one of ten "Manufacturing Projects of the Year." Intel broke ground in September on two new semiconductor fabs in that region of the state, and the fabs are expected to be operational by 2024 and create more than 3,000 jobs.
Since 2007, Arizona has won four gold and six silver shovel awards. "Arizona continually leads the way in creating high-quality jobs," said Governor Doug Ducey.
"Intel is grateful to be named "Manufacturing Project of the Year" for the $20 billion expansion at our Ocotillo campus in Chandler," said Keyvan Esfarjani, Executive Vice President, Chief Global Operations Officer and General Manager of Manufacturing, Supply Chain and Operations at Intel Corporation.
Area Development Magazine ranks states with weighted scores based on the number of high value-added jobs per capita, amount of investment, number of new facilities and industry diversity.
Arizona saw statewide economic development wins in 2021, landing electric vehicles, batteries, aerospace and renewable energy. According to the Office of Economic Opportunity (OEO), Arizona will add more than 720,000 jobs by 2030, with an annual job growth rate of 2.2%, three times the U.S. growth rate.
Source: MEXICONOW Staff