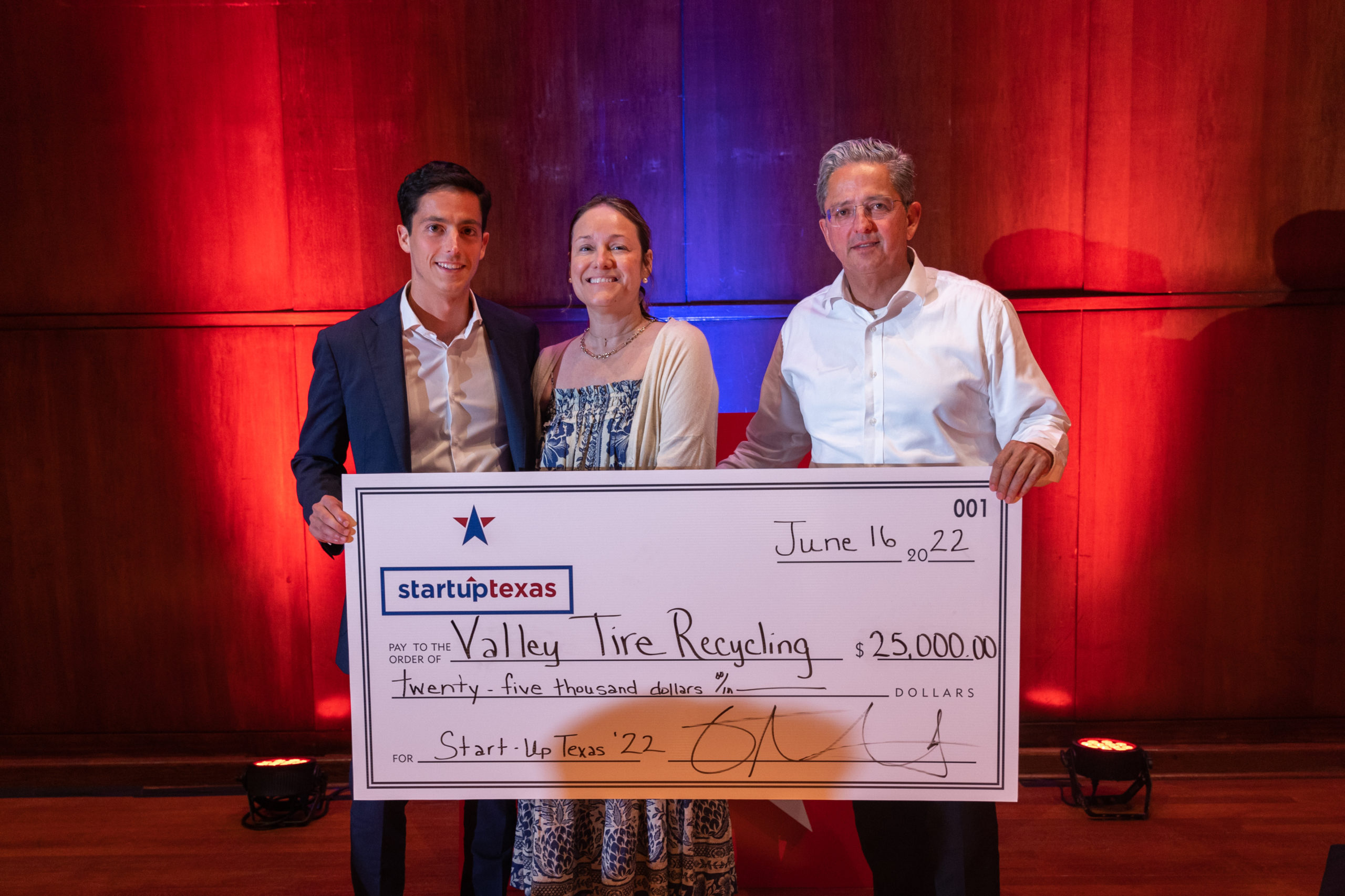 BROWNSVILLE, TX – The Brownsville Community Improvement Corporation (BCIC) announced the winner of the StartUp Texas 2022 Pitch Summit following the close of its first in-person event held on June 16, 2022.
Jaime Diez, CEO of Valley Tire Recycling took home the $25,000 funding prize for his company, beating out eight other highly qualified competitors.
"It was our third pitch summit, but the first one that was held in person. It was great to showcase our local entrepreneurs, as well as our international and out-of-state companies utilizing our flexible settlement program, incubation and the resources that make up our programming at the eBridge Center," said Nathan Burkhart, BCIC's Director of Small Business Development.
The event included a respected panel of judges comprised of last year's StartUp Texas winner Keeisi Caballero, physicist, entrepreneur and co-founder of Permittivity; David Ortiz, executive director of the Texas Manufacturing Assistance Center (TMAC); Rolando Gonzalez, owner of Team Logic IT Rio Grande Valley; and Griselda Munoz, human resources manager at Creative Liquid Holdings.
"BCIC's mission is to improve the quality of life through innovative and equitable economic development initiatives. One such initiative is to promote an open and inclusive ecosystem for all entrepreneurs, big or small," said Cori Pena, President/CEO of BCIC. "This startup summit is for those starting new companies or expanding their business."
This year's winning company was Valley Tire Recycling, originally from the city of Brownsville, Texas. The company is dedicated to converting end-of-life tires into reusable raw materials for various industries and manufacturers, while creating sustainable products through collection, remediation and recycling services.
Another finalist was Aetherworks, LLC, also from the city of Brownsville, dedicated to using direct air carbon capture technology to reduce total C02 emissions on land, as well as directly serving medium to large indoor farms.
Eido Innova, originally from Chihuahua, Mexico, was also among the finalists; the company uses patented technology, developers of a glucose measurement device for diabetic patients.
Embedded and iAG Technologies, both from Brownsville, are developers of fitted sheets that use wireless RFID technology to create a comfortable, non-invasive solution for monitoring elderly patients; as well as makers of efficient systems that enable high crop yields and quality production for sustainable micro-agriculture, respectively.
iBed by APYCO, from Mexico City, was the sixth finalist in the competition, dedicated to creating platform technology and new therapeutic systems for elderly patients.
SilverWarp (New Jersey); TXQ Rubs (Brownsville) and WITBA (Mexico City) rounded out the group of finalists.
Source: MEXICO-NOW Staff