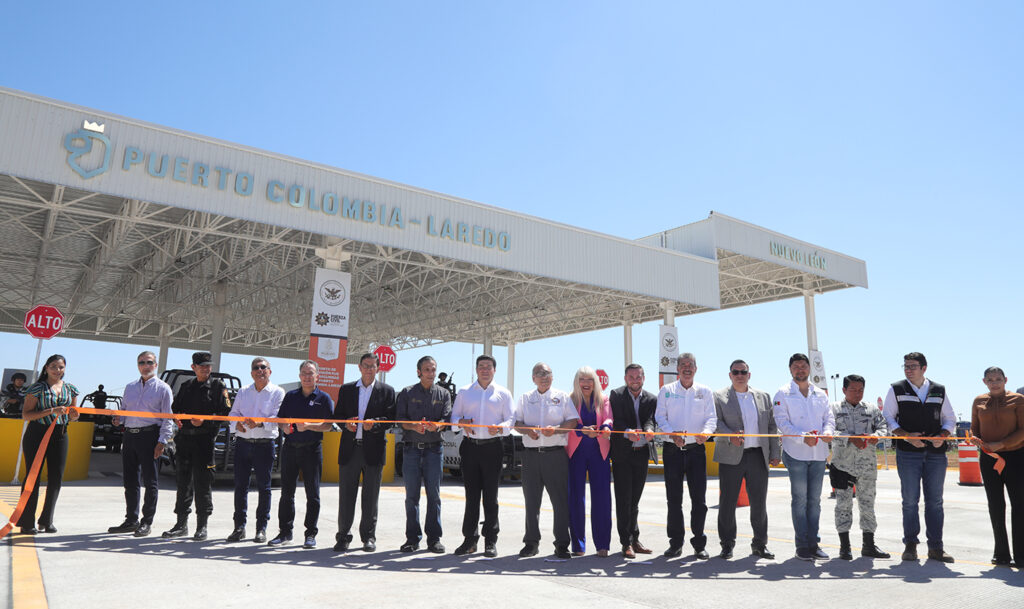 LAREDO, TX – Designed with advice from the Border Patrol and the United States Customs and Border Protection Office, the new Check Point of the Colombia – Laredo Border Port was inaugurated.
The point is operated by the Civil Force and the National Guard and will ensure that all crossings from Mexico to US territory comply with the laws of both countries.
"Speaking specifically of this Customs, this Check Point consolidates us as the safest and fastest Customs in all of Mexico with the United States," said the governor of Nuevo León, Samuel García Sepúlveda.
The governor stressed that all the modernization that has been undertaken in this customs office is consolidating it as the fastest and safest in all of Mexico, adding that this has been fundamental for attracting foreign investment in Nuevo León.
"Everyone wants to enter the North American market, which is why Nearshoring is so famous now. We are going to triple exports. We are going to break employment records, the highest paid. We have already quadrupled foreign investment in just two years, from 4 billion dollars to 30," García said.
For his part, Marco González, Secretary of Regional and Agricultural Development, expressed that Samuel García's administration has been the first in more than three decades that knew how to appreciate and promote the potential of the Nuevo León – Texas border.
Among others, the event highlighted the participation of the Mayor of Laredo, Víctor Treviño, and representatives of the District Headquarters in that Texas city of CBP and Border Patrol.
The Colombia – Laredo Control Point will establish an effective vehicle inspection system that will contribute to having a safe, dignified transportation route with sufficient capacity for the traffic that circulates through the international crossing between the State of Nuevo León and the United States. from America.
Customs will have vehicle controls; two lanes for cars and/or motorcycles; three lines for exclusive use of transport with excess dimensions; inspection booth for each lane, and 30 cm thick hydraulic pavement structure.
In addition, the building is made up of offices for administrative collection personnel, for the shift leader/head of surveillance and the secretarial area; toilets for men and women; rest area with kitchenette; site room; two detention cells with a control area for them; shelter area for canine assistants, which connects with an outdoor area for recreation and training; as well as an outside machinery area.