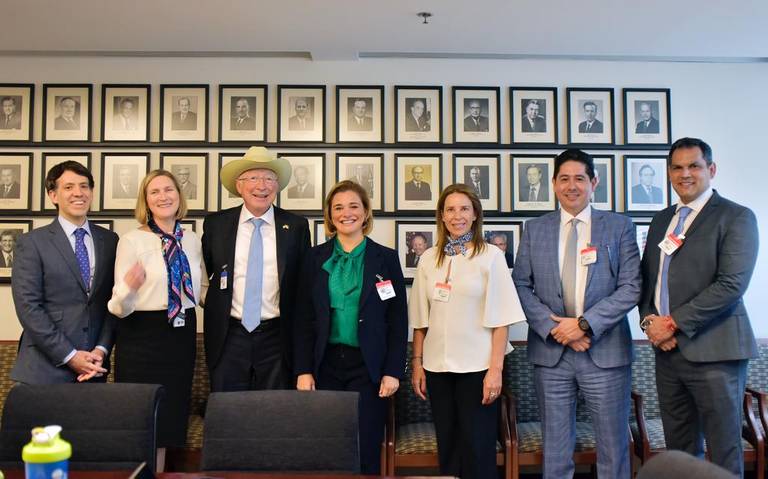 CHIHUAHUA – With the purpose of attending the border security in terms of modernizing operations with new strategies, the governor of Chihuahua, Maria Eugenia Campos Galvan met with the U.S. ambassador in Mexico, Ken Salazar in the city of Washington.
Campos Galvan reported that there was an opportunity to work on the proposal made in previous weeks with her counterpart from New Mexico, Michelle Lujan Grisham and Texas legislator, Veronica Escobar to integrate a commission to address the infrastructure needs of the border between Chihuahua and the United States for which there is already an existing budget.
In addition, during the meeting, they discussed options to attract more U.S. investment to Chihuahua and to be able to intervene and address the immigration issue to improve border security.
The Governor of Chihuahua was received by the U.S. Ambassador to Mexico and Rachel Poynter, Deputy Assistant Secretary for Mexico and Canada of the Bureau of Western Hemisphere Affairs to follow up on the programs that operate for the modernization and expansion of international crossings.
Ambassador Ken Salazar celebrated the mutual cooperation of the Government of Chihuahua with the U.S. Department of State.
Also, important agreements were reached for action in the design of collaboration schemes to contain and curb the immigration issue, based on the "Title 42" that will enter into force soon.
Finally, during this dialogue, commitments were ratified between the United States and the State of Chihuahua to promote fair and reciprocal trade, poverty reduction, and to make alliances to combat drug trafficking, transnational crime and illegal immigration.
Source: MEXICONOW Staff