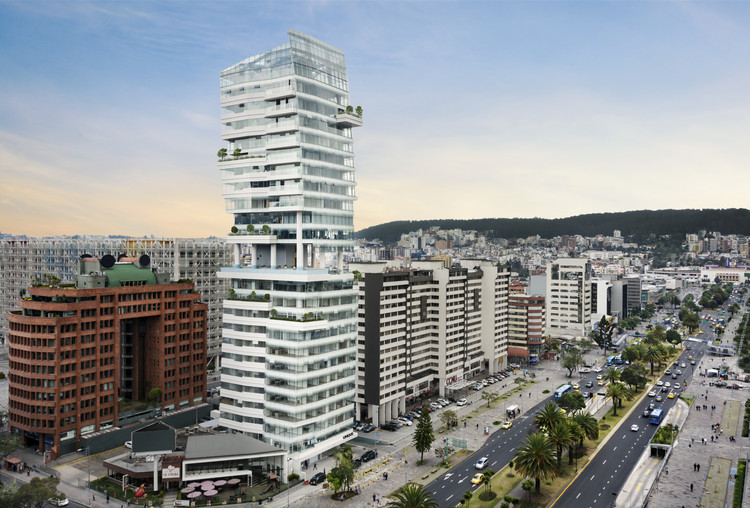 SALTILLO, COAH – The company Alora Desarrollos Inmobiliarios has started with the second phase of its VOEL Alto Distrito project in the city of Saltillo, Coahuila, where it plans to build four mixed-use towers, with an overall investment of US$148 million.
The Secretary of Economy of Coahuila, Claudio Bres Garza, together with the Mayor of Saltillo, José María Fraustro Siller, and the CEO of the company, Alejandro Chávez, started the construction of the commercial area of VITA, the first tower of the project, where US$53 million have already been spent.
The building is currently the tallest in Saltillo, with 90 linear meters; it will have 196 residential apartments (70% already sold); hotel; commercial plaza; event hall; games room; gymnasium; lobby; bar; package store; parking; private room and toy library, among other of its 15 amenities.
During the ceremony, it was emphasized that the three additional towers to be built over the next eight years will be taller than the first one (currently under construction), reaching 130 linear meters.
Alejandro Chávez, CEO of ALORA Desarrollos, explained that the construction of each of the four towers will generate 400 direct jobs and 900 indirect jobs. This is, he said, an innovative project that is similar to other mixed-use complexes in the United States, specifically in Miami, Florida.
Mr. Bres Garza reiterated that Coahuila, and in particular the Southeast Region, is constantly receiving applicants to join the local labor market who come from other parts of the country.
The Mayor of Saltillo, José María Fraustro Siller, highlighted the relevance of the real estate project being carried out by ALORA Desarrollos, which will set a precedent in the locality.
"Coahuila is a state where more and more companies are coming, with important projects such as VOEL Alto Distrito, because here they find all the right conditions to grow and develop," Fraustro said.