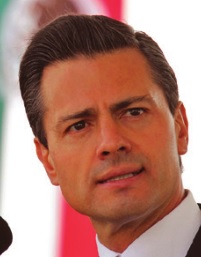 "Technical jobs require higher skills, and we want to help schools prepare students so we can hire them. They come in here and they know what to do. They handle themselves well."
Dale Snow, Fixed Operations Director at Mossy Toyota, which has donated cars and equipment to schools and offers internships.
---

"I have spent the last two years traveling across our great state, hearing from thousands of Texans about the challenges they face and the solutions they want to see from their leaders. I have cast a vision to address those challenges to provide greater opportunity for all Texans… I look forward to working with each and every legislator to ensure that even the future is bigger in Texas."
Greg Abbott, Governor of Texas
---

"We are working to make New Mexico's economy more diverse, and we've taken important steps to support manufacturers that send their products to other markets. As I've said many times, it is critical that we position New Mexico as a key corridor for trade in order to attract greater investment to our state. Clearly, we're making an impact, but there's more to do, and we need to act with urgency."
Susana Martinez, Governor of New Mexico
---
"We expect to continue leveraging Tijuana's economy, which supports 194 thousand direct jobs, this enables us to attract and foster talent and capital; the manufacturing sector, now more than ever, is a generating factor of innovative projects."
Federico Bañuelos Serrano, President of the Association of Maquiladora Industry and Export
---
"The work on the roads that the City of Nogales began last month is making progress thanks to the support of the Federation. It is anticipated that the effort will be fully completed and on time. It is projected that the sequence needed for these three projects is four months. In the meantime the work is being done in accordance with the provisions of the original project."
Enrique Romo Robles, Secretary of Urban Development and Ecology for the Municipality of Nogales
---

We are not aware of any other municipality in the country that places the benefit to the city above revenue purposes. Mayor Javier Garfio has been very clear about this. He maintains that there have to be consequences for the citizens, in this case sustainable urban planning. We know it will not be easy, but fortunately we have already started and the results can be seen."
Guillermo Monarrez Vota, Secretary of Urban Development and Ecology for the Municipality of Chihuahua
---
"When the mission at-hand is protecting children, nothing else takes precedence – period. We've assembled a leadership team that recognizes the urgency of this issue, and is ready to get to work to make Arizona a safer place for our children."
Doug Ducey, Governor of Arizona
---
"The Cross BorderXpress is designed to meet both International as well as the safety standards of the United States. It will be run by the Customs and Border Protection (CBP) on the northern side of the facilities. Immigration and Customs of Mexico will be on the southeastern side. This association is an innovative way to optimize resources and help mitigate the peak hours of waiting."
Pete Flores, CBP Director of Field Operations in San Diego, CA
---

"With the significant participation of women this first Legislature is hoping to open discussion on the major issues of equality. All this imposes a great responsibility on everybody to live up to the public trust. At last we can say we are closer to the true representation of society in the parliament. The ideological notion occurred long ago and is quite clear and here I am referring to gender."
Ruben Moreira, Governor of Coahuila
---
"The new plant construction project in Mexicali proves Honeywell's commitment to have presence in Mexico in the long term. Mexico and the Mexicali facilities are essential elements in Honeywell Aerospace's manufacturing strategy, we are very proud of the work of our Mexicali staff, which is contributing to the safety and efficiency of commercial flight around the world".
Luis Sanchez, President of Honeywell Mexico
---
"To have better infrastructure in the schools means investing in developing better citizens who contribute to the transformation of this city. As mayor this is the incentive that I have in order to continue our transformation project. It not only requires a high quality of education, not just teaching the student, but it requires bringing the tools and other conditions necessary to fully exploit their potential."
Leticia Salazar, Mayor of Matamoros, Tamaulipas
---

"By forming Nuevo Leon as an energy site, we are also seeking to take advantage of the ability of the State in terms of renewable or alternative energy. This includes generation that mainly involves wind and solar sources."
Rolando Zubiran Robert, NuevoLeon's former Minister ofEconomic Development