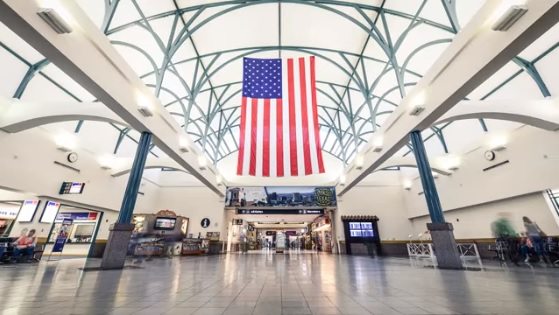 EL PASO, TX – Texas 16th District Congresswoman Veronica Escobar announced that the Federal Aviation Administration (FAA) will award $5 million from the Bipartisan Infrastructure Act to El Paso International Airport (ELP).
That funding will be used for energy efficient lighting and replacement of roof panels, new seating to provide passengers with power to devices and with new design to accommodate more travelers and improve Americans with Disabilities Act (ADA) access.
"I am thrilled that El Paso International Airport will receive funding from the Bipartisan Infrastructure Act championed by Congressional Democrats. As the only federal representative from our region to advocate and vote for this funding bill, it remains my priority to see these investments return to our community. By continuing to modernize facilities, invest in technology and infrastructure that puts El Paso International Airport at the forefront of the fight against climate change, and increase accessibility standards for all travelers, we are rising to meet the needs of passengers arriving to and departing from our community," said Congresswoman Escobar.
U.S. Transportation Secretary Pete Buttigieg said Americans deserve modern airports that meet the needs of their families and growing passenger demand.
"Our advanced planning and preparation allowed us to propose important projects that were ready for federal grant opportunities like this one. Our team is focused on anticipating the needs of tomorrow thus helping us bring federal dollars to our community today," said City Manager Tommy Gonzalez.
Sam Rodriguez, Director of Aviation at El Paso International Airport, explained that as a result of the investment, EPIA is expected to be able to save at least 20% of the terminal's lighting energy costs, furthering new sustainability efforts.
The funding comes from the Airport Terminal Program, one of three aviation projects created by the Bipartisan Infrastructure Act. The act provides $1 billion annually for five years for airport terminal grants.