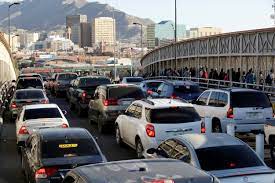 EL PASO, TX – The El Paso City Council approved a motion to request $3 million from the U.S. Department of Transportation to modernize and expand the international ports of entry.
According to the City Council, the resources would be for the Infrastructure Rebuilding Project of America (INFRA) under the Multimodal Projects Discretionary Grant (MPDG) Program for the Department of Transportation (DOT) to invest in highway, rail, transit and port projects that promise to achieve national goals.
With the requested support, rehabilitation work would be performed on the Bridge of the Americas, Paso del Norte, Stanton Bridge and Ysleta Port of Entry.
El Paso officials determined that the total cost of the assessment is $5 million, which if the federal grant is awarded, the city will match the remaining $2 million with international bridge revenues, not taxpayer dollars, it was reported.
Last Nov. 15, 2021, President Joseph R. Biden signed the Infrastructure and Jobs Act of 2021 and appropriated $2.85 billion to be awarded by the Department of Transportation for FY 2022 for transportation infrastructure projects under the MPDG Program.
The City wishes to apply to the Multimodal Projects program to secure funding for a modernization and expansion feasibility study for the Ysleta Port of Entry (POE). The study would support and guide future investments at this international crossing.
The proposed needs assessment of the El Paso international bridge system would be a system-wide study of the El Paso ports of entry, focused on transportation modeling, which would examine origin/destination and cargo sector dynamics, among other issues. The objectives of this needs assessment would be to study existing transportation patterns and plan for future demand and system pressures.
Source: MEXICONOW Staff