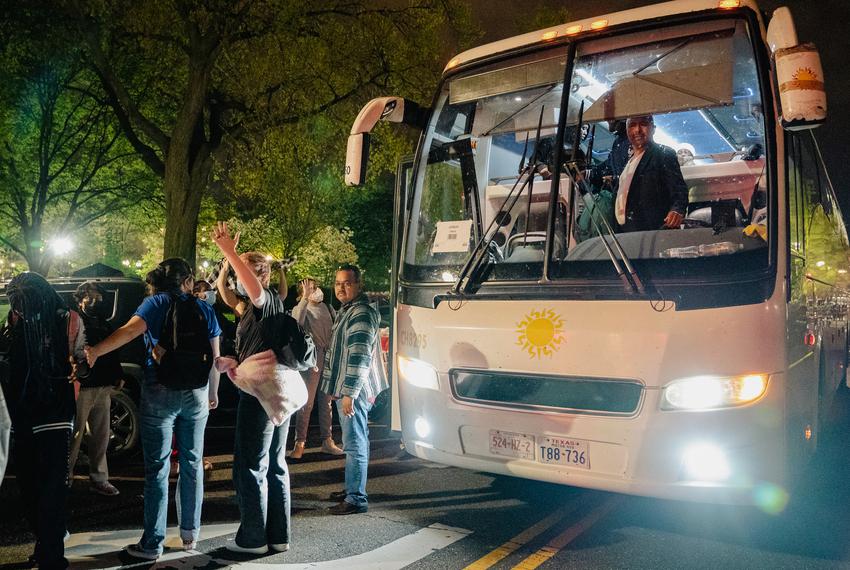 EL PASO, TX – The arrival of approximately 1,100 migrants a day to the city of El Paso, Texas, in search of asylum has exceeded the capacity of the shelters in recent days, according to local authorities.
In an attempt to alleviate the situation and get migrants out of the region faster, the El Paso City Council approved by a 3-1 vote, the ratification of a 16-month, US$2 million contract with Gogo Charters LLC.
The Cabildo discussed the ratification of the award of Charter Bus Transportation Services 2022-0971 to Gogo Charters LLC, for trucking services to migrants arriving in the city.
The terms and conditions of the ratified award were included in the Services Agreement. While the assignment of the contract will allow for the transportation of migrants to other cities as needed.
Said agreement is based on the declaration of disaster due to a new wave of migrants through the City of El Paso; under the authority of Emergency Ordinance 019333, § 252.022(a)(1) of the Texas Local Government Code, and § 252.022(a)(2) of the Texas Local Government Code.
Last May 19, 2022, City of El Paso Mayor Oscar Leeser issued an Emergency Ordinance due to a new migrant influx, and subsequently, on August 26 of the same year, the City approved the award of 2022-0971 Charter Bus Transportation Services to Gogo Charters LLC for charter bus transportation services.
The City's award for August 26, 2022 was executed under the authority of the aforementioned Emergency Ordinance.
According to City Council information, as of September 7, 2022, the City has expended US$222,750 in award 2022-0971 for Charter Bus Transportation Services. With the approved ratification, Gogo Charters LLC will be able to provide the shuttle services through December 31, 2023.
More than 550 people released from federal immigration custody have been taken out of the city on charter buses, while the city's Sun Metro buses have been taking migrants to shelters, bus stations and El Paso International Airport, according to the presentation shown last Monday, Sept. 12.
Since Aug. 23, a total of 25 buses have transported migrants released in El Paso to other cities, according to D'Agostino, he also explained that 1,135 migrants have been transported in chartered buses organized by El Paso's emergency management office.
"This weekend, we [the Office of Emergency Management] had enough to fill twice as many as we were sending. We just didn't have enough charters to do it. That's the volume of people who want to move on who don't have a sponsor or don't have the means to get there," D'Agostino said.