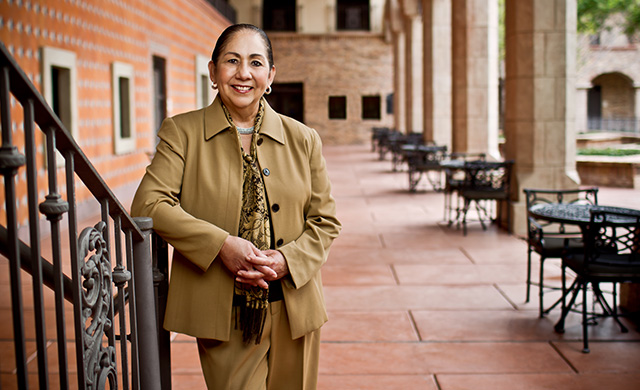 BROWNSVILLE, TX – Dr. Juliet V. Garcia, former president of the University of Texas at Brownsville, will receive the Presidential Medal of Freedom, considered the nation's highest civilian award.
The Presidential Medal of Freedom will be officially presented on July 7 at a ceremony in Washington, D.C., and is awarded to individuals who have made exemplary contributions to the prosperity, values or security of the United States, world peace, or other significant public or private societal endeavors.
"I have always believed that educating the next generation of citizens was our primary mission because, once educated, they would help nurture, defend and sustain America's democracy. I believe that now more than ever," Garcia said.
The award-winning professor was the first Mexican-American woman to serve as president of a university in the United States. During her tenure as president, García pioneered the partnership between UT Brownsville and Texas Southmost College, a community college where she served as president from 1986 until 1992, when she assumed the presidency of UTB, a position she remained in until 2014, when the University of Texas Rio Grande Valley (UTRGV) was created.
Currently, Garcia is a professor of communication at UTRGV, and along with 16 distinguished Americans will be the first to receive the honor under President Joe Biden.
With the presentation of the medal, Garcia joins an elite group of recipients of that distinction that includes celebrities, politicians and public servants such as Denzel Washington, Simone Biles, Gabrielle Giffords, Megan Rapinoe, John Lewis, Meryl Streep, Maya Angelou, Babe Ruth, among others.
"My job was always about opening the doors of opportunity for students to learn, compete and succeed in classics, chess, physics or the performing arts. We did this by building a campus that unabashedly honors our cultural and environmental heritage, and filling it with brilliant faculty and dedicated staff," Garcia said.
The recipient of numerous awards, TIME magazine named Garcia one of the nation's top 10 university presidents in 2009 and Fortune magazine listed her among the top 50 global leaders. In 2008, Garcia was selected to serve on President-elect Barack Obama's transition team.
Garcia, a native of Brownsville, Texas, earned a doctorate in communication and linguistics from the University of Texas at Austin and a master's degree and a bachelor's degree in speech and English from the University of Houston.