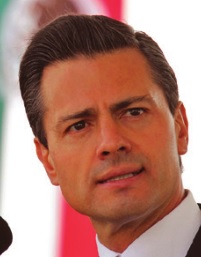 "I want to congratulate Tamaulipas and Nuevo Leon and all who have made possible inaugurating this important work today. This pipeline will help us increase 45 percent of our natural gas imports to detonate other regions of the state of Nuevo Leon and Tamaulipas, on the route we have to bring more natural gas to the south of the country. "
Enrique Peña Nieto
, President of Mexico during the kickoff of the first phase of "The Ramones" pipeline
"
Online education continues to expand in the U.S., and that's certainly true at UTEP. More University of Texas at El Paso degree programs will be available online in 2015 through a partnership with a private publishing company and most of these programs will launch in May. UTEP officials aim to enroll 5,000 students in the programs over the next five years."
Mike Smith
, Vice Provost and Dean of UTEP's Extended University
"The investment of US$5 billion in Mexico, announced by executives of General Motors, portends a very good 2015 for Ramos Arizpe and Coahuila. General Motors is mainstay of our State's economy, and the expansion and modernization of their production systems reaffirms the confidence in the responsibility and competitiveness of Coahuila's workers."
Ruben Moreira Valdez
, Governor of Coahuila
"
There's nothing more frustrating, I know, for people than to be in those lines… We want to do everything we can to uphold our border security mission, but to make sure that we're getting people, particularly trusted travelers, through as quickly as possible."
R. Gil Kerlikowske
, Commissioner of the U.S. Customs and Border Protection about the new smartphone app that provides estimated wait times for drivers and pedestrians entering the United States at San Ysidro, Otay Mesa and other U.S. land ports of entry.
"
I´m pleased to inform you that we have just closed this year with an investment of US$5.7 billion; that´s 1.7 billion more than prospected initially. For next year, we are making a commitment to keep attracting investments during the 9 months remaining of the administration."
Rodrigo Medina de la Cruz
, Governor of the State of Nuevo Leon
"
If we can get students who speak each others' languages and know how to work together, we have a stronger future together."
Stephanie Syptak-Ramnath
, Minister-Counselor at the U.S. Embassy in Mexico City, about U.S. and Mexico desiring more student exchanges.
"With the consolidation of certain economic sectors in Nogales in the short term, growth perspectives are good for next year. However, we should continue working with the authorities of all levels of government, seeking for a balance between social and investment's spending. The latter must be accurate and trigger the promotion and development of economies at all levels, thereby promoting productivity. "
Carlos Avila Murillo
, President of the National Chamber of Transformation Industries (CANACINTRA) in Nogales, Sonora
"
We continue to look for opportunities to add cost-effective solar energy technologies as the price of solar energy becomes more competitive. Our commitment building a portfolio that includes renewable technologies complements our local, clean burning natural gas units, helping to make overall power in our region more dependable, safer and cleaner."
Tom Shockley
, Chief Executive Officer at El Paso Electric
"
Texas has always been home to great innovators in a wide range of disciplines. We're home to visionaries, dreamers, bold entrepreneurs who challenge the status quo and lead the way into a better future for us all."
Rick Perry
, Governor of Texas announcing the acquisition of Kalon Biotherapeutics LLC
"
Tucson should change its policies to reflect President Obama's recent executive action setting new priorities for immigration enforcement. But it's too early to tell whether Obama's priorities, set to go into effect on Jan. 5, 2015, will affect the implementation of state laws such as SB 1070."
Steve Kozachik
, Tucson City Councilman
"
Transportation infrastructure is important to local economies and to public safety, moving people and goods. The Paseo interchange serves well over 100,000 people a day and is a major artery through our state's largest city. This was an important project that will smooth traffic flow and is expected to improve the drive-time experience for commuters and families passing through this area each day. We are incredibly grateful to all those who had a hand in designing and constructing this project – they've done great work. And, we thank the people of New Mexico for their patience as we worked to complete this project as quickly as possible."
Susana Martinez
, Governor of New Mexico during the new Paseo Del Norte/I-25 Interchange opening
"It's important to have a good coordination between the Federation, States and Municipalities, as without doubt the security issue includes us all and we must put our greatest efforts to move forward in this matter; we know there are still changes being made and these will be reflected gradually in the coming months. "
Francisco Vega de Lamadrid
, Governor of the State of Baja California