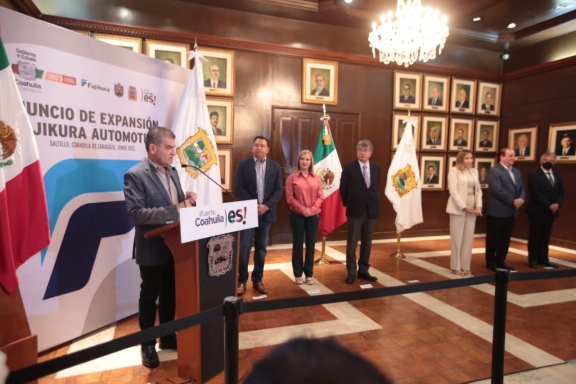 COAHUILA – Governor Miguel Angel Riquelme Solis announced the double investment to be made this year in Coahuila by the Japanese company Fujikura, which will invest US$21.8 million and will strongly boost employment with the creation of 4,257 new jobs.
"As a result of the confidence that foreign investors have to establish themselves in this state and continue expanding, investments of this magnitude have been made, which have a direct impact on the state's economic development, since they generate economic spillover and direct and indirect sources of employment," he said.
Riquelme Solís emphasized that Coahuila's strengths, such as the good indicators of security, competitiveness, Foreign Direct Investment, as well as the skilled labor force and the promotion of the State in different national and international forums, are reflected in real figures.
So far in the 54 months of the State Administration, an average of 3.2 investment projects per month have been announced in Coahuila. In the last two years, on average, US$237 million in investment projects have been captured every month.
In 2022, 16 investment projects have been closed, totaling US$1.03 billion.
Of the 16 investment projects, 14 are new, representing an amount of US$1 billion, and 2 have been expansion projects, for an amount of US$22 million.
Source: Cluster Industrial