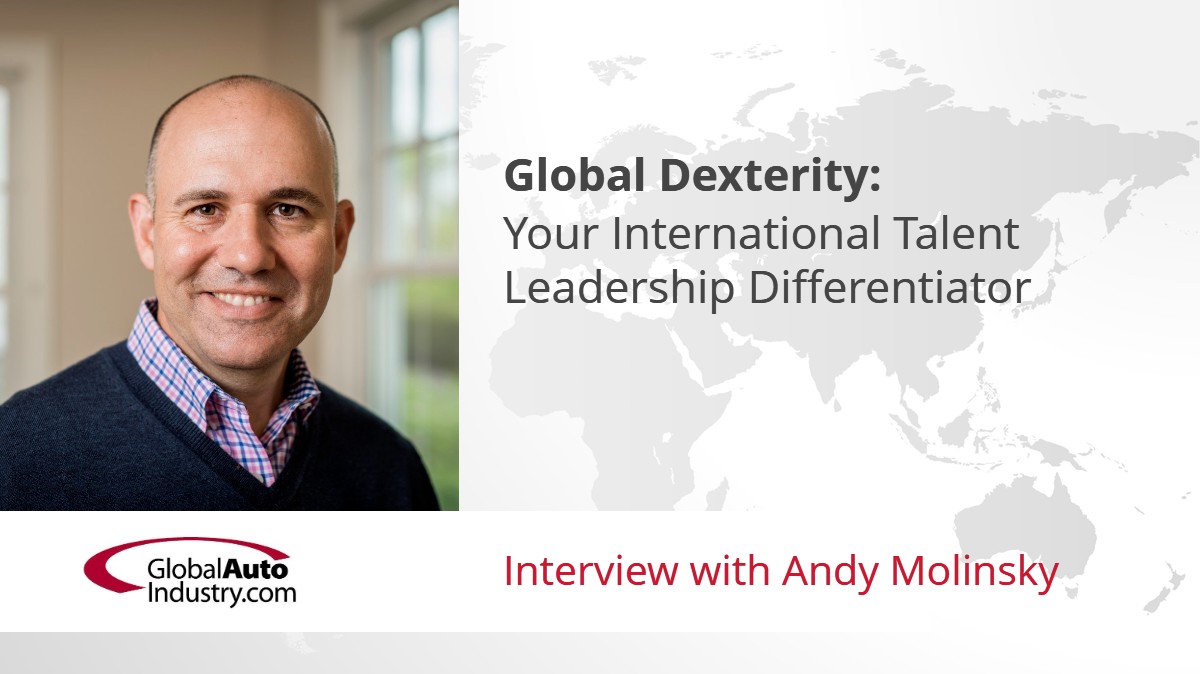 GlobalAutoIndustry.com's latest Audio Interview "Global Dexterity: Your International Talent Leadership Differentiator" features Andrew Molinsky. Mr. Molinsky is a Professor of Organizational Behavior and Management at Brandeis University's International Business School. His research and writing has been featured in Harvard Business Review, the Financial Times, the New York Times, the Wall Street Journal, among others. Andy was awarded as a Top Voice for LinkedIn for his work in education. His first book, Global Dexterity (Harvard Business Review Press), received the Axiom Award (Silver Medal) for Best Business Book in International Business & Globalization and has been used widely in organizations around the world, including Boeing, AIG, among other leading organizations. He teaches, consults, and lectures widely to university and corporate audiences.
In the 10-minute Audio Interview, Mr. Molinsky discusses these questions:
How did you get interested in the topic of crossing cultures?
Can you tell me what you mean by "global dexterity" and why the concept is important in the modern workplace?
What is the "cultural code"?
You recommend a six-dimensional approach when diagnosing that code. For those who have not read your book Global Dexterity, please explain.
What advice would you give to professional who is moving to a different country for work? How can they adjust successfully to their new environment?
Early in your book Global Dexterity, you observe, "I believe there is a serious gap in what has been written and communicated about cross-cultural management and what people actually struggle with on the ground." Can you explain what this means?