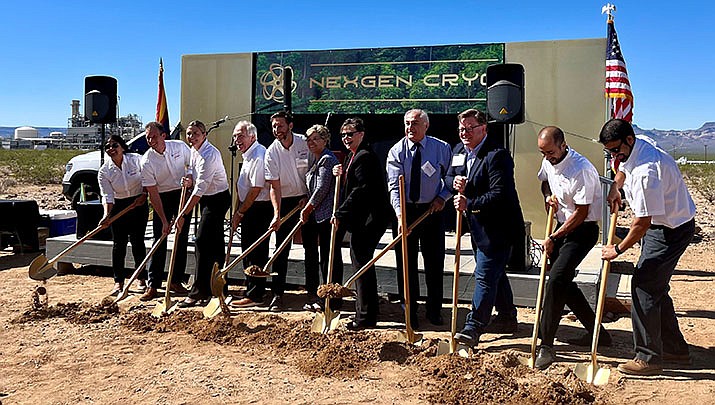 KINGMAN, AZ – NexGen Cryogenic Solutions, Inc. and Flowserve Corporation have broken ground on a new Cryogenic Engineering Test Center (CETC) at the Griffith Logistics Center in Kingman, Arizona.
According to the Arizona Commerce Authority, the new facility, operated by NexGen Cryogenic Solutions, Inc. is located near Golden Valley in Mohave County. On land bounded by Interstate 40 to the east and the 653 MWe Griffith power plant to the west, the CETC is due for completion in the second quarter of 2023.
Under an exclusive license agreement, Flowserve, a leading provider of flow control products and services for global infrastructure markets, will help sell NexGen's products and services to the international Liquefied Natural Gas (LNG) industry for the production and transportation of LNG.
NexGen Cryogenic Solutions, Inc. or NexGen Cryo, is a company whose eight owners and managers are veterans of the former JC Carter companies and proudly proclaim their connection to the Carter corporate family tree. The company's fourth-generation submersible motor pumps, turbines and packaged fluid systems will be shipped worldwide in containers, taking advantage of the facility's proximity to Interstate 40, Kingman Freight Airport and BNSF's southern transcontinental rail link to all North American container ports to help ensure on-time delivery of its products.
The proximity to Phoenix Sky Harbor and Las Vegas International Airport will also provide the avenue for sales and service engineers and company executives to more easily connect with our customers and drive greater customer satisfaction.
Dennis Chalmers, CEO of NexGen Cryo, has indicated that natural gas will provide quick response power when renewables are out of service due to the absence of sun or wind or lack of out-of-service storage capacity, while minimizing CO2 output compared to other backup sources.
"Our products are essential in efficiently handling LNG to get it where it needs to go. In return, our business will bring jobs to Mohave County and a fair return for our shareholders," Chalmers added.