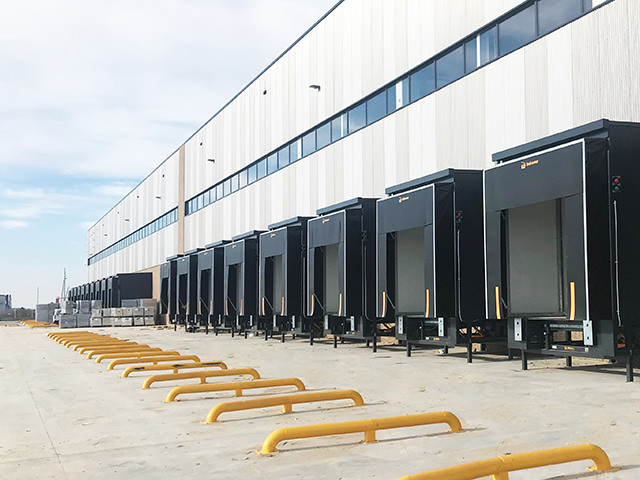 SANTA TERESA, NM – Real estate firm CBRE announced that Dallas-based Blue Road Investments has begun construction on the third phase of Westpark Logistics Center, a planned industrial park in Santa Teresa, New Mexico.
The latest phase includes the construction of Buildings 3 and 4, which will total 646,263 sq. ft. the company said.
Located at the southeast corner of the intersection of Strauss Road and Industrial Avenue, Building 3 will be a 425,368-square-foot cross-dock facility, while Building 4 will be a 220,895-square-foot rear-load facility.
Consistent with the first two phases, Buildings 3 and 4 will feature modern specifications with clear heights of 36 and 32 feet, respectively, 185-foot truck yards and approximately one dock door per 5,000 square feet.
The buildings are expected to be completed in January 2024 and will bring Westpark's total square footage to more than 1.3 million square feet. Christian Perez Giese and Rex Maingot of CBRE have been retained by the developer to market the new buildings for sale or lease.
"We are delighted to begin construction on the third phase of Westpark Logistics Center. Driven by an increased focus on bringing supply chains back to North America, we continue to see a growing number of companies establishing a presence in the Borderplex region. This project should continue to help supply much needed Class A product to the market," said Jeff Hackmeyer, managing partner of Blue Road Investments.
Located just west of Highway 136, the logistics center is just minutes from the Santa Teresa Point of Entry, Doña Ana County International Airport and Union Pacific Intermodal Rail Hub.
"Blue Road has a proven track record at Westpark. They have already delivered two best-in-class warehouses, and this phase is designed to accommodate users with requirements ranging from 50,000 square feet to 420,000 square feet," said Christian Perez Giese, Senior Vice President – Director with CBRE in El Paso.