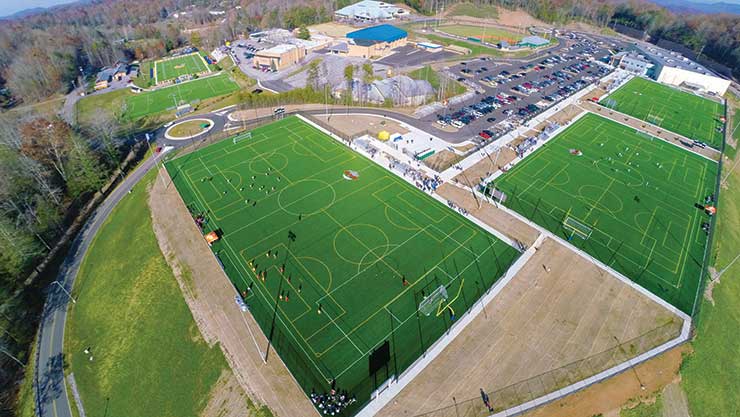 LAREDO, TX – With an investment of US$35 million, the city of Laredo, Texas, began construction of a new sports complex, which includes spaces for family recreation.
Construction work began last August 31 and according to the City Council, the Buena Vista Sports Complex will promote the physical well-being and quality of life of the community, thanks to the donation of the land by the Valdez and Ramos families to build what is considered a positive change for sports tourism in Laredo.
The Sports Complex will be a 200-acre recreational center and regional park with many amenities, such as artificial turf fields for baseball, softball, soccer and football, as well as an area available for food vendors, an outdoor theater, walking trail, among others. In addition, it will include sports-grade lighting that will facilitate night games.
In August 2021, the Laredo City Council approved the Sports Complex Master Plan. Since then, the City has awarded contracts to Leyendecker Construction of Texas, Inc. and JHS Architect, Inc. for the construction and architecture of this project.
Leyendecker Construction of Texas, Inc. was contracted for pre-construction, construction and bidding services in the amount of approximately US$32 million. A professional services contract was also awarded to JHS Architect, Inc. in the amount of approximately US$2.95 million for professional surveying, architectural and engineering services.
"This is a magnificent and historic day for our community as we are announcing a monumental project in South Laredo," stated Mayor Pete Saenz.
"We have high expectations to see more major investments in this area, but more importantly, the Buena Vista Sports Complex will definitely generate more significant economic prosperity throughout our city. I want to express my gratitude to the landowners for their generous contributions that will help catapult continued growth in South Laredo. This is truly an investment in the future and the betterment of our city," he added.
"We are proud to announce that after more than 3 years of partnering with the City of Laredo to create a destination for sports tourism in South Texas and, specifically, a place with endless recreational opportunities for the youth of Laredo and all Laredoans, our work toward a common vision has finally become a reality," said Donato Ramos, Jr. land donor for the sports complex.
The new Buena Vista Sports Complex will be located on the east side of Cuatro Vientos Road and Bob Bullock Loop 20 between Lomas del Sur Blvd. and La Pita Mangana Rd. The project is estimated to be completed in mid-2024.