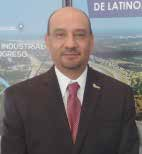 Nuevo Laredo has the busiest inland port for exports from Mexico to the U.S., but its industrial activity was at a standstill for several years. In 2014, the dynamics changed and some companies had expansions.
Juan Antonio Lazalde Romo, President of INDEX Nuevo Laredo, said 2015 has many challenges for the industrial sector, but the private and public sector are working together to create the conditions to promote growth and attract more companies to the region.
He explained many companies have ongoing expansions; therefore, they need land for their buildings, workers and talent to keep up with production goals and new infrastructure to move their raw material and export their products.
BORDERNOW. – How strong is the manufacturing sector in Nuevo Laredo?
Juan Antonio Lazalde Romo. – The medical, automotive and metallurgical industries are driven the growth in Nuevo Laredo. We forecast a 5 or 6 percent growth during Q4-2014 due to companies´ expansions.
This is an atypical growth for Nuevo Laredo. Even though the last months of the year the manufacturing production tends to slow down, this year the production increased during this period.
In previous years, the annual overall growth was 3 or 4 percent in manufacturing, but in 2014 this number will reach 8 percent. In the last 3 years, companies stayed the same and only a few of them had minor expansions, but in 2014, this pattern changed. Manufacturing companies in Nuevo Laredo are growing and expanding and this industrial boom will continue in 2015.
What is driving the expansions in Nuevo Laredo?
The trained workforce in Nuevo Laredo increases the companies´ productivity and efficiency. In our city we have high – standard industries and the companies demand quality; therefore, quality is the best feature of our workforce.
Another factor driving the companies´ expansions and attracting new investment is the increasing cost of manufacturing in Asia. Corporate offices are always looking for the best place to manufacture at a lower cost and most of them are moving operations from Asia to Mexico. I believe Nuevo Laredo is in their Top 10 list to relocate in Mexico.
What advantages does Nuevo Laredo have that no other border city in Mexico has?
The Comercio International Bridge is one of our advantages over the other border cities. This port of entry manages 49 percent of all inland exports from Mexico. Nuevo Laredo has developed a method to improve the supply chain by shortening delivery times.
Does this mean Nuevo Laredo has no logistics problems?
We do not have logistics problems; we have areas of opportunity to improve. We need to perfect our logistics and we are working on it. The Municipal Government is working with the industrial sector to create more infrastructure, especially in the mobility and access issues.
The 2015 municipal budget includes funding for mobility and access to industrial parks in Nuevo Laredo. The industrial sector and the Municipal Government are committed to create more infrastructure to attract investors to Nuevo Laredo. Once these projects are up and running, our logistics will be better.
Another issue we need to work on is Mexican Customs. This is an area in which improvements are needed. We do have technology and some of the processes are automated. Nevertheless, the volume of traffic is so intense and so fast the software programs are not capable of keeping this pace. Sometimes the system is down and this situation decreases our competitiveness and has an economic burden for the companies. We are working on this issue too.
What other options does Nuevo Laredo has to move cargo?
Most of the merchandise is moved by land freight, but in Nuevo Laredo we want to promote railroad freight. We are working along with the Municipal Government to conduct a feasibility study to build an intermodal rail station in Nuevo Laredo, especially to receive the Altamira and Lazaro Cardenas ocean cargo.
These areas receive shipments from Asia; therefore, we want to build the infrastructure to transport this cargo directly into Mexico instead of landing in the U.S. Our goal is to move this traffic to Mexico and use the Mexican seaports instead of the Port of Long Beach in California. If we can build this new infrastructure, the Mexican seaports will be more competitive and companies can save on logistics costs because it is cheaper to move cargo by train in Mexico than by land in the U.S.
Index has a certification in the Manzanillo Port. The companies that have this certification have special privileges such as a fast lane to move containers faster. If we move forward with this project, we can be more efficient and more competitive.
Which challenges does the industry have in Nuevo Laredo?
Most of the challenges in Nuevo Laredo are in the human resources area. Nuevo Laredo has enough personnel to fulfill the vacancies in the operational, technical and engineering areas, but a lot of companies have industrial design departments and only a few people have the training to be an industrial designer.
We are currently working with the universities to include industrial design in their curricula; therefore, companies can choose local talent to fulfill these high-paid vacancies. Today, companies have to invest a lot of time, resources and money to bring industrial designers to their Nuevo Laredo plants because the talent is in other cities and the recruiter has to convince them to move to our border city.
Another problem we are facing is that our youth moves to Nuevo Leon or Mexico City to study and, once they graduate, they stay in those areas. We need to offer the careers they want to study in our local universities and have companies that want to hire them in our region.
What is your forecast for Nuevo Laredo in 2015?
The industrial activity in Nuevo Laredo will grow at least 6 percent in 2015. We have ongoing expansions and the new industrial park owned by the Nuevo Laredo Municipal Government will be ready in 2015. These two conditions will help us to grow faster next year.
The Progreso Industrial Park is a government initiative to promote the city. The goal of this industrial park is to attract companies to build their facilities in our city and to create jobs because the land will be free. We need to create more jobs in Nuevo Laredo and this is one of our strategies for the upcoming year.
By Nancy J. Gonzalez