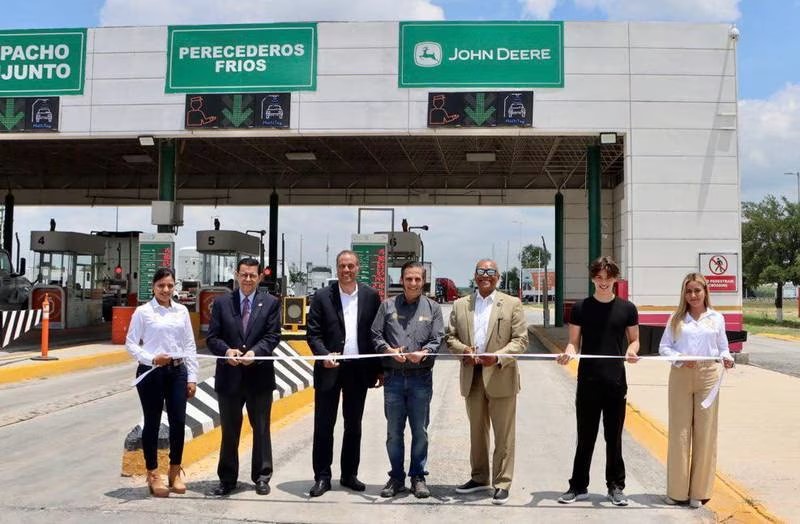 NUEVO LEON – Puerto Colombia, Nuevo Leon opened an exclusive lane for John Deere, a world leader in agricultural production systems, construction equipment and state-of-the-art technology.
"This is part of our strategy to recognize with Exclusive Lanes to large companies like John Deere that, over other customs, favor us with their preference to cross large volumes of international trade to and from the United States," explained Marco Gonzalez, Secretary of Regional and Agricultural Development.
The Honorary Director of the Nuevo Leon Border Zone Development Corporation (CODEFRONT) also pointed out that one of the reasons why John Deere prefers Colombia is the port's capacity to cross large machinery, mainly agricultural, known in logistics terms as "oversized".
John Deere's ribbon cutting ceremony for the new lane was led by Wallas Wiggins, Global Vice President of Logistics and Supply Management, and David Panjwani, Corporate Director of Logistics.
The U.S. delegation, which arrived in Colombia from its Global Headquarters in Moline, Illinois, also included Vanessa Stiffler-Claus, Director of Corporate Affairs and International Strategy; and Renee Jewell, Regional Logistics Manager for Mexico, the United States and Canada.
"First of all, I want to thank each and every one involved in this tremendous event for John Deere, which really helps us with our growth," said Wiggins, following the official opening of the new lane.
"For John Deere in its global strategy, Mexico is extremely important and in our expectations for the future, boosting trade through increased trade flow at a border crossing with the potential and conditions of Puerto Colombia, Nuevo Leon, will be a great enabler for our future growth," he added.
With a flow of approximately 34,000 annual operations (exports and imports), John Deere is currently the largest user of Puerto Colombia. The transnational company expects this flow to increase by around 40 percent by 2024.
The company has been a leading manufacturer of solutions for agriculture and infrastructure equipment in Mexico for almost 70 years; it also generates more than 8,000 direct jobs in Nuevo León, Coahuila and Querétaro.