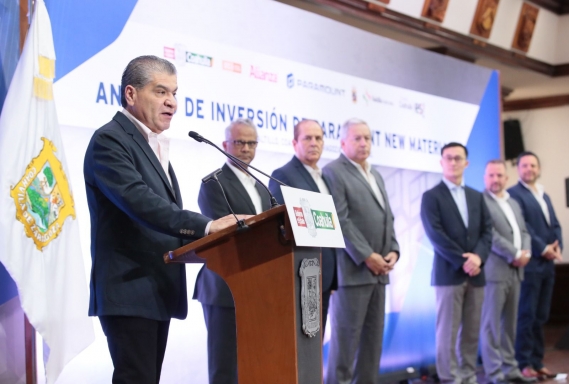 COAHUILA – Paramount New Materials announced that it will invest US$200 million in the Alianza Industrial Park in Derramadero, Coahuila, where it intends to generate 1,225 new jobs.
According to the Government of Coahuila, the factory will start operations in December 2024 and will be installed on a 78 hectare site to process aluminum products such as chassis, bumpers and other components for the automotive industry.
Together with company executives, such as Fangzhou Xu; Sajid Hussein and Luis Gerardo Rodríguez Páder, as well as the Mayor of Saltillo, José María Fraustro Siller, and the State Secretary of Economy, Claudio Bres Garza, Governor Miguel Ángel Riquelme Solís emphasized that certainty was one of the main factors that determined its installation in Coahuila.
He highlighted that from January to date, 51 announcements of new investments or for the expansion of companies already located in the state have been made, which shows that Coahuila is consolidating as an important destination for the arrival of more industries.
Miguel Riquelme acknowledged the support of Grupo Alianza, owner of the Industrial Park where the company acquired 78 hectares for the present and future development of its company, because in addition to being permanent promoters of employment, they also generate certainty for investors.
In addition, he praised the company's determination to meet all the needs of its workers, and even anticipate to study the feasibility of housing, stores and educational institutions near its factory: "And that will lead to greater competitiveness".
On behalf of the company, Luis Gerardo Rodríguez Páder, highlighted Paramount New Materials' project to take advantage of the extraordinary infrastructure that Coahuila has for industrial development.
"We are a company dedicated to casting, aluminum extrusion (process to create objects with defined or fixed cross section), mainly for the automotive and solar photovoltaic industries. It will supply the domestic market and those of North and South America, with a generation of 1,225 jobs and an investment of 200 million dollars," said Rodriguez.
He emphasized that the company will make the most of the talent of young professionals from the Southeast Region so that in the near future it can export it to other countries, which is one of its main priorities.
During the event, which was attended by executives from Grupo Alianza, headed by its president, César H. Cantú, it was reported that according to its installed capacity plan, it is expected that in the first year of operations the company will generate 6 percent of the national production of extrusion profiles for the automotive industry.
It was reiterated that Paramount will prioritize the hiring of Coahuila labor (professional and technical), as it considers that 90 percent of its workforce will be from this region.
Finally, it was indicated that the factory, which will be located in the Alianza Industrial Park in Derramadero, will have Extrusion and Machining plants, with an annual capacity of 100,000 tons of products for the industry.