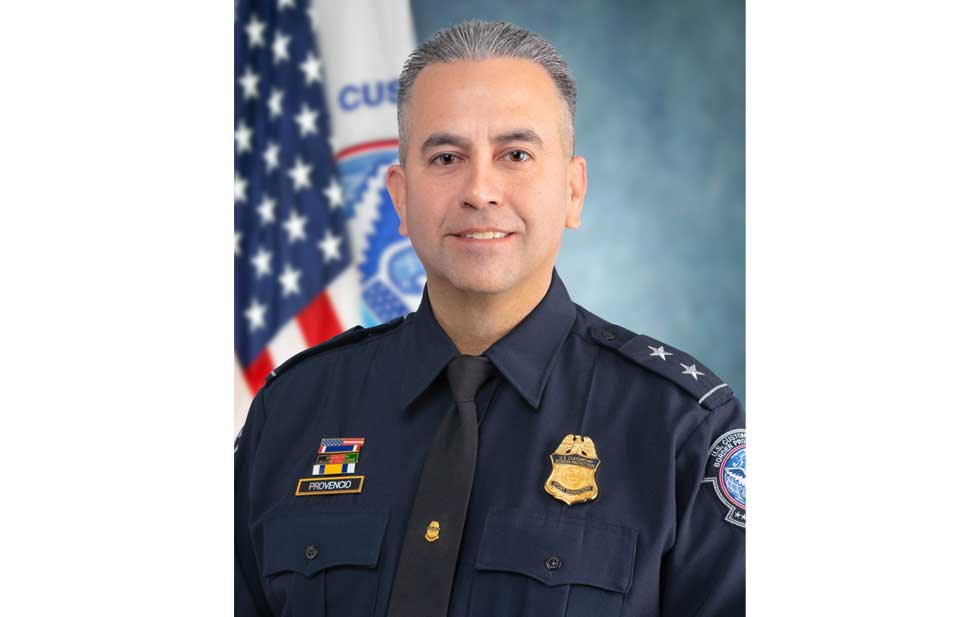 EL PASO, TX – U.S. Customs and Border Protection (CBP) El Paso Port Director Ray Provencio was formally sworn into office during a CBP change of command ceremony.
Family, friends, colleagues and local officials gathered as Provencio recited the oath of office during a ceremony held at the Chamizal National Monument in El Paso, Texas.
"I am honored and humbled to be the Director of the Port of El Paso and look forward to leading the men and women of CBP assigned to this facility. The Port of El Paso is vitally important to the overall economic security of El Paso and the region," said Ray Provencio.
As El Paso Port Director, Provencio will direct operations and enforcement activities at the Bridge of the Americas, the Paso del Norte crossing, the Stanton Street SENTRI lanes, two rail crossings, as well as CBP operations at the El Paso International Airport. In addition, he will supervise CBP employees at these locations, including agency officers, agricultural specialists, canine enforcement officers, support staff, among others.
Port Director Provencio began his career with the U.S. Customs Service in 1998. During his tenure with the U.S. Customs Service and CBP, he has held several high-level positions and has performed duties that require the ability to think strategically, provide pragmatic guidance, articulate the Agency's vision, and manage major national projects to completion.
Prior to this appointment, Provencio was Deputy Director of Field Operations in El Paso, Texas. In this position, he oversaw operational matters in New Mexico and West Texas, all the way to the Big Bend region; in addition, he provided subject matter expertise related to all federal inspection laws, rules, regulations and procedures pertaining to counterterrorism, border protection and facilitation.
During his tenure with Customs and Border Protection, he has established a rather unique career path, having worked at all levels in the field and field office to include Supervisor, Chief, Watch Commander, Port Director, Deputy Director-Field Operations, and Assistant Director-Field Operations; he has also worked on permanent assignments at headquarters, as well as several temporary national policy oversight assignments up to the Director level.
Additionally, he has led numerous efforts to continuously improve Office of Field Operations (OFO) operations, to include the implementation of Unified Cargo Processing-a binational effort that reduces redundancies in commercial inspections, reduces wait times for cross-border trade, and further rewards participants in CBP's Trusted Traveler Programs.
Also, he has been involved in several high-level projects of national scope, including negotiating two Collective Bargaining Agreements, serving as Acting Chief of Staff for OFO, Chief of Staff for the Department of Homeland Security's Southwest Border Coordination Center, and Team Leader in Kuwait during Operation Welcome Allies.
According to CBP information, Provencio will work to ensure that the agency's core mission of preventing terrorists or terror weapons from entering the United States is accomplished on a daily basis. The new director will also be responsible for all immigration matters related to the admission and exclusion of individuals seeking entry into the United States.
Provencio is a native of the Southwest Texas and Southern New Mexico region, attended the University of Texas at El Paso, is a 2010 graduate of the CBP Command Leadership Academy, a 2018 graduate of the CBP Leadership Institute and a career member of the Senior Executive Service. Port Director Provencio is the first El Paso native in the history of U.S. Customs and Border Protection to serve as Port Director, El Paso.