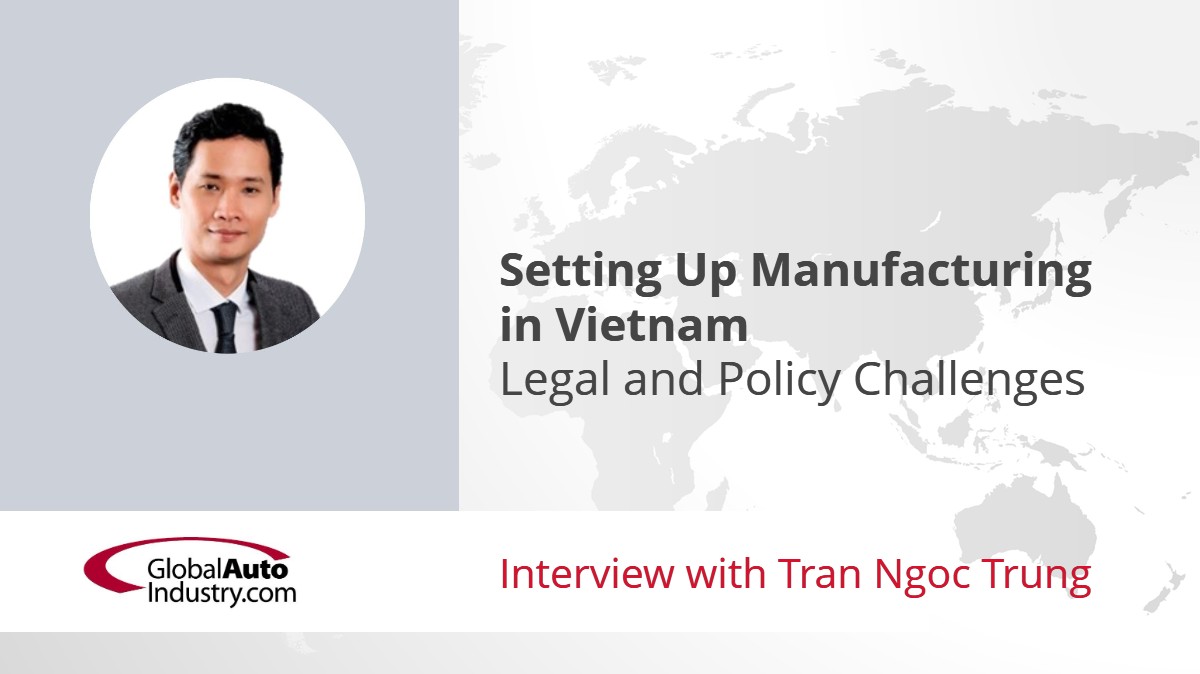 GlobalAutoIndustry.com's latest Audio Interview "Setting up Manufacturing in Vietnam: Legal and Policy Challenges" features Tran Ngoc Trung. Mr. Trung is Senior Regulatory Advisor at Baker Mckenzie Vietnam. Mr. Trung has been the key external legal counsel for most of Vietnamese auto manufacturers in the last 5 years. Trung is the main author in a Baker McKenzie's publication "Tax, Customs and Regulatory Aspects of Vietnam's Automobile Industry", and aims to provide an initial view of key legal aspects that affect Vietnam's automobile industry.
In the 9-minute Audio Interview, Mr. Trung discusses these questions:
The Vietnam automotive industry has recently attracted international attention with the emerging Vinfast electric car manufacturer as the first Vietnamese car manufacturer that is capable of introducing their cars worldwide, can you give a brief overview on the current manufacturing environment in Vietnam and what foreign manufacturers may expect from this market?
From a policy aspect, what incentives can car manufacturers receive from the Government?
There are always pros and cons when choosing a destination for manufacturing, but a key factor for successful manufacturing is the localisation rate. Can you share further insight on this aspect?
With such challenges, does it mean that importing and distributing imported cars will still be a major strategy for foreign car manufacturers in the long run?