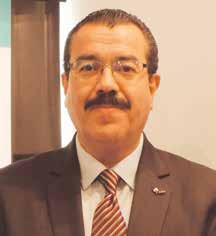 BorderNOW Staff Interview
The industrial sector in Tijuana is diversified.  Most of the companies are from the electric, electronics, aerospace, medical, metallurgical and plastics sectors. This border city wants to attract more Foreign Direct Investment in the next 5 years so the industrial sector representatives are working with the Government to create infrastructure. They are also seeking that the education system includes in their curricula the careers needed in the region.
Federico Serrano Bañuelos, President of Index Tijuana, said manufacturing companies are the biggest employers in the city and they are shaping the economic growth in this border metro area.
For him, education and infrastructure are vital to attract investors to Tijuana, but also to strengthen the local suppliers to increase value added in the manufactured goods.
BORDERNOW. – Which are the challenges manufacturing companies are facing in Tijuana?
Federico Serrano Bañuelos. – The biggest challenge for the industrial sector in Tijuana is the lack of legal and fiscal certainty to operate.  This situation has had a negative impact for future investments and this subject is really important now that investors are turning their eyes into Mexico as a niche of opportunity.
We need to be proactive to solve this matter and work with the local, State and Federal governments. We need to raise awareness among government officials about the contributions the industrial sector has in Mexico, such as job creation, investment, competitiveness and talent. This sector is the only one that has been able to retain talent and investment in Mexico.
We need to give greater credibility to our investors; therefore, other challenges we are facing in Tijuana as a city is to increase our competitiveness and job creation. Nowadays, Tijuana has over 550 manufacturing plants and this sector employs at least 181,000 people.
Another challenge is to increase the value added in all the products manufactured in Tijuana. Manufacturing fifth generation is to innovate in Mexico; therefore, we need talent. In Tijuana we are working on linking the private sector with the academic system. As a result, some universities and technical colleges changed their curricula to embrace the careers the industrial sector needs.

How is Tijuana shaping its talent?
Tijuana is ready to receive new investment. The local universities and technical colleges have the careers we need in Tijuana and the graduates get jobs in the local industry. Also, we are promoting elementary and secondary school education inside the companies.
We have internship programs for High School students and after a while they decide the career they want to pursue.  Most of them prefer engineering programs and high skilled technical careers. In Tijuana we have enough human capital to fulfill the current and future vacancies in all areas:  operative, technical, professional, engineering and event graduate studies. 
What is Tijuana manufacturing forecast for 2015?
The U.S. is our biggest market; therefore, if the U.S. economy grows next year we will be able to supply to Americans more and better goods manufactured in Mexico. 
Tijuana´s forecast for 2015 is to increase 8 to 9 percent the export value while in employment we expect a 3.5 to 4 percent rise. In 2014 we had a reasonable industrial growth and we forecast 2015 will be better. The fiscal reform negotiations had a limiting, negative impact on the industrial sector. The new mandatory certification proves to the Federal Government that manufacturing companies in Mexico are worth of trust. Now, companies have the confidence to invest in the short and medium terms.
In Index Tijuana we forecast more maquiladoras expansions in 2015 and export value increase. The aerospace and automotive sectors are also increasing their national content; therefore, national suppliers will grow too.
How is Tijuana improving its logistics?
In Tijuana we are working on infrastructure creation. We need to build infrastructure that allow us to reduce costs, transport goods in a secure way and to create smarter ports of entry.
We are currently lobbying with the Federal Government to turn our customs into smart ports of entry using additional high tech devices. Also, we are working with companies to get their C -TPAT and NEEC certifications as a way to speed up the crossing wait time while keeping secured customs.
Do you consider Baja California must apply to be considered a Strategic Economic Zone?
Yes, we must lobby to get this incentive. Baja California needs a boost to attract new investment. We are working with Economic Development and the Secretariat of Economy in a comprehensive strategy to promote the state. To support our initiative, we are compelling and analyzing data. We are trying to be proactive and not waiting for the Government to come and give us incentives. 
Mexico's Treasure Minister Videgaray asked for a comprehensive plan to increase national content in export goods. What is your stand on this matter?
The recent announcement made by Minister Videgaray gives the industrial sector not only the opportunity to set a plan to increase national content on the manufactured goods in Mexico, but also to boost the supply chain. This is a great opportunity to support the local suppliers in vital aspects such as increase their production capability and get certifications and financing. Also, the local suppliers need to create strategic alliances with Mexican and U.S companies.