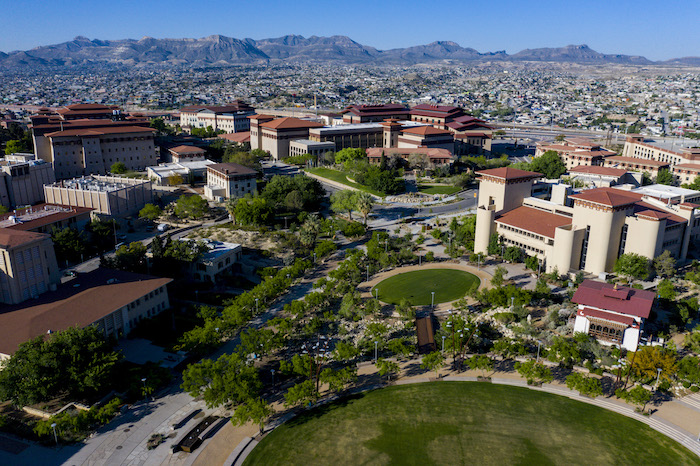 EL PASO, TX – The University of Texas at El Paso (UTEP) has been chosen to become a center of thought leadership for Hispanic Serving Institutions (HSIs) across the country, thanks to a new US$7 million grant from the National Science Foundation (NSF).
The new grant, known as Network Opportunities for the Development of Equitable and Effective Evaluation in HSI (NODE), is a six-year investment that will position UTEP to provide the first comprehensive portrait of the effectiveness of all grants funded by the NSF HSI program.
Anne-Marie Nunez, executive director of the Diana Natalicio Institute for Hispanic Student Success, is the principal investigator for the grant. She, along with UTEP co-principal investigators Azuri Gonzalez and Amy Wagler, are tasked with building capacity for institutions to evaluate and research ways to strengthen and document the success of NSF HSI-funded projects.
The grant will establish the Hispanic-Serving Institutions Research Evaluation and Synthesis Center (HSI-CERS) at UTEP, the only center of its kind in the country.
"As the leading Hispanic-serving university in the United States, we look forward to expanding the impact UTEP has on the success of Hispanic students across the country," said UTEP President Heather Wilson.
HSIs graduate a disproportionately high proportion of Hispanics with STEM degrees compared to all institutions of higher education. However, due to the historical lack of investment in HSIs, Nunez said, these institutions have traditionally lacked the capacity to conduct assessments or research on their STEM best practices.
Through the grant, UTEP will develop evaluation and research approaches that assess how past, current and future NSF HSI-funded programs are serving Hispanic and other minority students in STEM fields.
In addition to leading the HSI-CERS grant, UTEP will help coordinate a second US$7 million grant awarded by NSF that focuses on building community and collaborations among current and potential HSI grantees.
The second grant, formally known as the UNIDOS Network Resource Center for Community Coordination (HSI-CCC), will be led by Florida International University, while UTEP; Valenciano College; California State University, Sacramento; and the University of Puerto Rico, Rio Piedras, will serve as co-principal investigators. Meagan Kendall, Ph.D., associate professor in UTEP's College of Engineering, is the co-principal investigator on the HSI-CCC grant.
UTEP is the only university involved in leading both new NSF investments, totaling US$14 million, for HSI. UTEP is also a founding member of the Alliance of Hispanic-Serving Research Universities, of which President Heather Wilson is the inaugural chair.
The Natalicio Institute is named for Diana Natalicio, who served as UTEP's 10th president from 1988 to 2019. The institute serves as a national platform for researchers, thought leaders, philanthropists, and policymakers to develop knowledge, evaluate policies and programs, promote innovation, and cultivate resources critical to the success of Hispanic students.