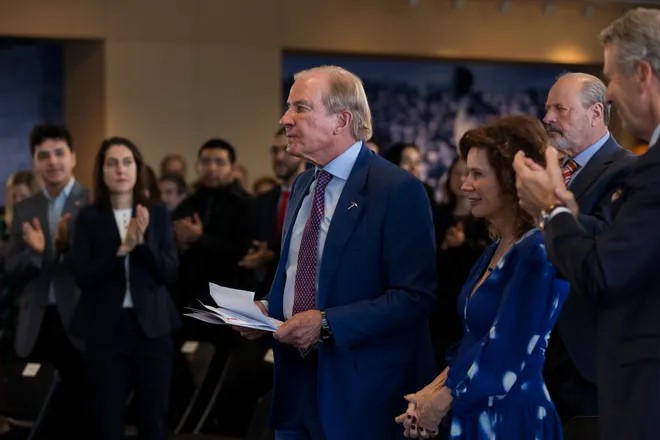 EL PASO, TX – The University of Texas at El Paso (UTEP) announced the naming of its business school as the Woody L. Hunt College of Business, along with a US$25 million grant, the largest in the university's history.
The contribution will fund initiatives that position UTEP's Woody L. Hunt School of Business as a leader in teaching and research on U.S.-Mexico trade.
"Mexico is the United States' second largest trading partner, and 20 percent of U.S. trade with Mexico flows through El Paso," said UTEP President Heather Wilson.
This grant from the Hunt family will make the Woody L. Hunt School of Business the place to go to study and research trade and business between both countries.
"The donation will enable the university to attract top researchers, faculty and future students to the College of Business and transform the college into the premier institution of higher education for business, trade and entrepreneurship research along the U.S.-Mexico border," said Woody L. Hunt, president of the Hunt Family Foundation and Senior Chairman of the Board of Trustees of Hunt Companies, Inc.
The funding will create two distinguished professorships and multiple endowed scholarships, and provide funding for academic, research and professional development initiatives within the business school. It will also create scholarships and experiential learning opportunities for students pursuing a business degree at UTEP – one of the few business schools along the U.S.-Mexico border.
Since 1987, the Hunt Family Foundation has donated more than US$12 million to support various initiatives at UTEP, including establishing the Hunt Institute for Global Competitiveness, as well as the Jack and Dorothy Hunt Endowment for Entrepreneurship, creating several positions to support faculty growth, supporting students through scholarships, and investing in the renovation of Sun Bowl Stadium.
The grant will also help strengthen the Hunt Institute for Global Competitiveness, a research center at UTEP that provides cutting-edge economic analysis and research tools that strengthen regional and binational cross-border economic and social development.
It is worth mentioning that in 2010, the Hunt Family Foundation donation established the Hunt Institute, and the new grant will create an endowment to support the expansion of the Institute's research and development.
For more than 20 years, Woody has been dedicated to helping increase educational attainment and access for students across Texas. Woody became the first El Pasoan in more than 40 years to serve on the University of Texas System Board of Regents when Governor George W. Bush appointed him in 1999.