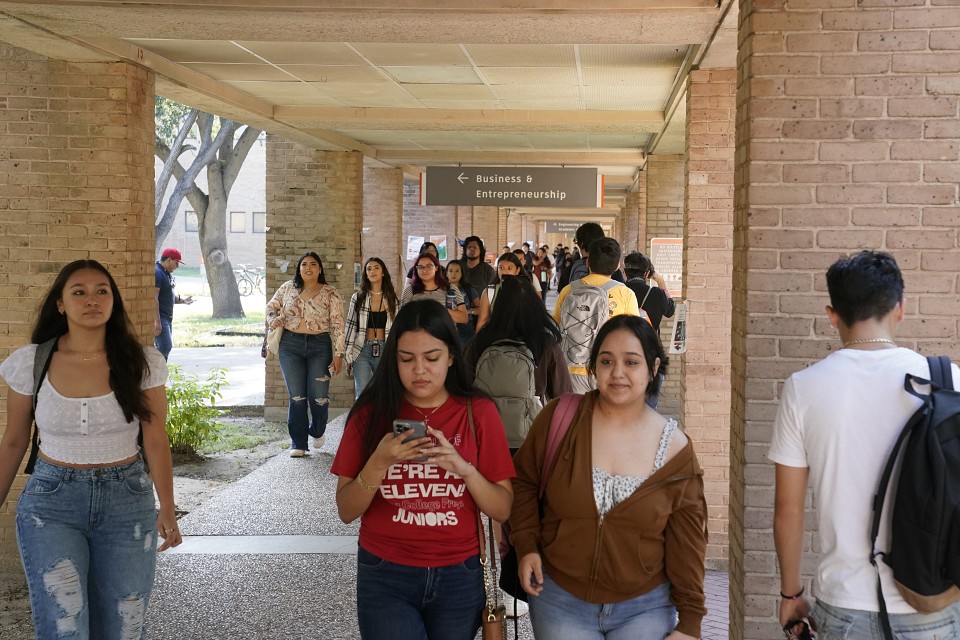 TEXAS – For the third consecutive year, the University of Texas Rio Grande Valley (UTRGV) registered a record enrollment of more than 32,000 students for the return to classes.
Among the 32,174 students who began the new school year were 5,827 freshmen, the most in the school's history, according to the university.
UTRGV also had a first-day enrollment of more than 4,000 graduate students for the third consecutive year, including a school record 494 doctoral students.
UTRGV President Guy Bailey said the numbers of the reflect the university's strong commitment to providing a high-quality education at an affordable price.
"Our top priority remains student success, and that starts with providing access to higher education to as many students as possible, especially those from the Rio Grande Valley," Bailey said. "These students will graduate and go on to great careers that will help transform their lives and the lives of their families."
UTRGV also welcomed several new generations this year as part of the university's commitment to expanding educational opportunities. The School of Podiatric Medicine (SOPM), the first in Texas and one of only 10 in the United States, began this fall with an inaugural class of 27 students in its Doctor of Podiatric Medicine program. The new Doctor of Nursing and Doctor of Human Genetics also begin this fall, as well as the Bachelor of Science in Human Dimensions of Organizations.
Also this fall, 24 students will make history as the first members of Luminary Scholars. Introduced last year, this unique merit scholarship program provides full tuition and fees for all four years of undergraduate and graduate and professional programs to which the student is admitted, including the School of Medicine and SOPM.
While the inaugural class of the accelerated online Master's in Higher Education Administration begins this fall. The first cohort is comprised exclusively of UTRGV employees, and the university will cover all tuition and fees.
UTRGV returned to classes last Monday, Aug. 29, at the Brownsville campus.