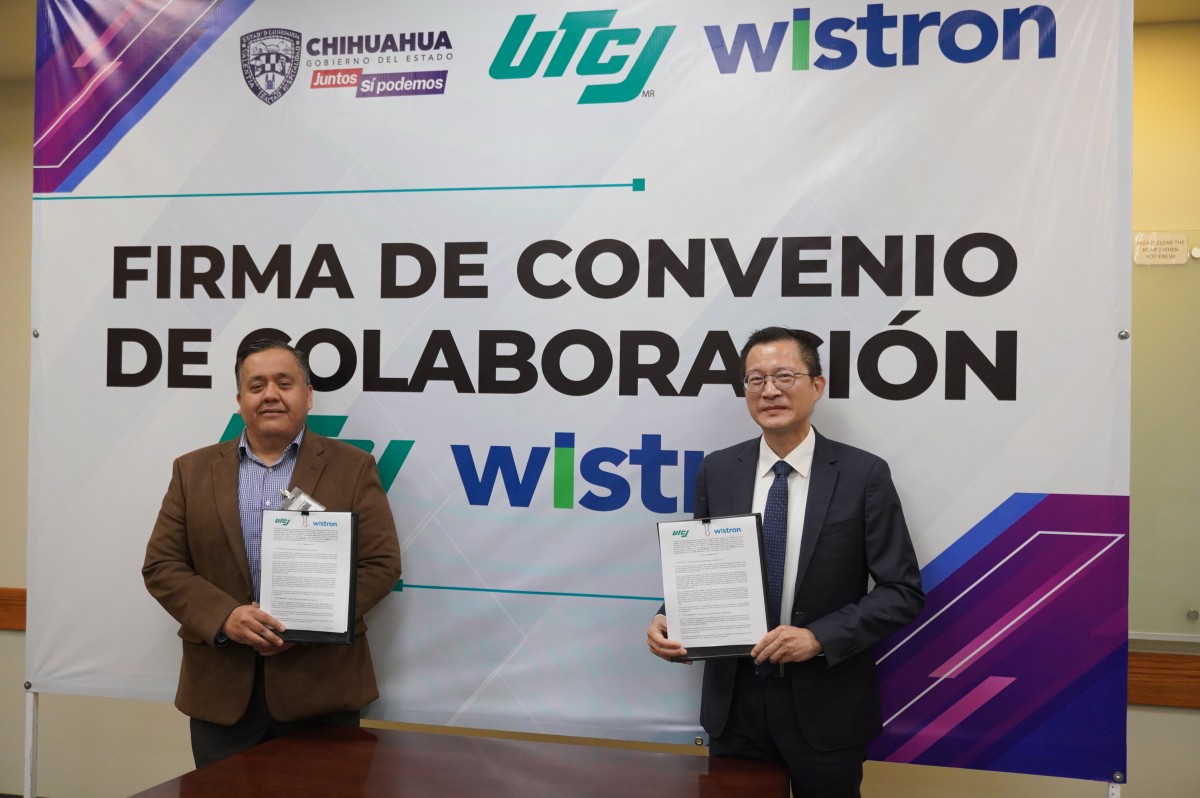 JUAREZ, CHIH – The Universidad Tecnológica de Ciudad Juárez (UTCJ) and Wistron México, S.A. de C.V., signed a collaboration agreement to incorporate the student community to the different areas of the company, as part of the linkage programs between academia and the productive sector of public and private goods and services in the state of Chihuahua.
The protocol ceremony took place at the facilities of the transnational company, where the rector of UTCJ, Carlos Ernesto Ortiz Villegas, and the general manager of Wistron Mexico, Jackie Lai, signed the respective agreement, having as witness of honor the general director of Liaison of the Ministry of Innovation and Economic Development (SIDE), Jaime Luciano Fernandez Chavez.
Jackie Lai, announced that the company is one of the largest in the world in ICT (Information and Communication Technologies) processes in the area of electronics and expressed her pleasure that the Higher Education Institutions of the border take the lead and begin to visualize the future of the industry and better prepare their students.
He also said that industries will be increasingly competitive, so he is very confident in the work that IES will do in terms of vocational training of young people from Juarisco.
"As a technological university, we are very interested in having this link with the leading companies in the city; we have been working on an academic project design called Universidad Index that will be linked to the industry, and we believe that Wistron is a very solid company. I have had the opportunity to visit them at the graduations organized by their Training Center, especially those where our students have graduated, and I have witnessed that it is an organization that is one step ahead in the subject of training, and that makes us recognize Wistron in a special way", said UTCJ's rector, Carlos Ortiz Villegas.
It is important to highlight that the alliance is part of the results of the Talent Forum, organized by the State Government in June 2022 with the support of the Ministry of Innovation and Economic Development (SIDE) and the Ministry of Education and Sports (SEyD).
The Forum was derived at the request of the productive sector to strengthen ties with academia and to jointly develop study programs aimed at training talent based on the present and future needs of the labor ecosystem.